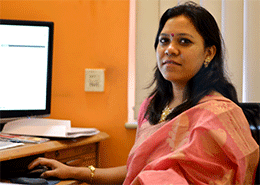 After much fan following, we bid a warm farewell to our ever-chirpy HR, Anulekha Datta! 
Since for a couple of days, we've seen how eager was our dear Ma'am Datta to get her successor trained and ready for the challenges ahead.
Coming back to where left, we were blessed to have our outgoing HR around for full four years since March 2, 2012 till April 30, 2016.


First, amongst many things that she introduced, one that particularly commands a mention is the – Personality and Popularity Test. It brought out the sentiments we as employees have for each other and the outlook we've build for ourselves over the years.
Second, her hysterical self would come to the fore, if we procrastinated in getting to the terrace for birthday celebrations. This increased the participation by manifold times – a feat not achieved by other HRs.
Third, GRMTECH's senior management along with her active support revamped the way we would celebrate our Founder's Day.
As far as her farewell party is concerned, though it was kept a low-key affair yet it wasn't less than any gala event of the day.
There were speeches by the esteemed HR by herself speaking of all the good and the bad moments she'd carry all her life.
Besides few words of wisdom from our very own Projects Manager (aka counsellor), Mr. Manojit Dey.
Both the speeches and the cake cutting ceremony was followed by special gifts for the beloved HR.
Soon after that there was full-blown ecstatic performances by our very own Arijit Singhs, – Anirban Rudra and Mainak Banerjee as well as our indigenous Shreya Ghoshal – Papri Pal Naskar. (Your songs were a delightful treat for the HR and all of us – Thank you guys!)
It was wacky of an HR Datta to ceremoniously hand over her cabin's keys to her successor. And we are equally glad to welcome her protege, Ms. Tulika Modak.
Nevertheless, it reminded us of once a popular TV soap 'Kyuki Saas Bhi Kabhi Bahu Thi' which was quite wittingly converted to as – Kyuki Anulekha bhi kabhi HR thi.
Like every good thing must end to allow the next to happen, so must our farewell party for HR Anulekha Datta. A big round of applause for the lady in shining armor. We wish you all the best for your all your future endeavors.
Lastly, GRMTECH says 'Thank you'.
[Picture courtesy: Sourav Dhara , Tanmoy Jana and Sanjay Singh]