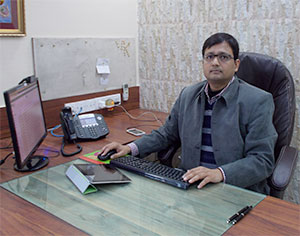 Vivek Kedia, Managing Director of Great Media Technologies Private Limited (Grmtech) started dabbling in websites and online marketing in January 2003, at the age of 24.
He started modestly by working from a table space at his father's law office. He started by developing websites for local business and some government departments like the PWD and West Bengal Police. Vivek Kedia struggled to convince people the necessity of websites and online customers; he decided that real growth lies in exporting of services so he concentrated on getting US/Europe clients.
Vivek Kedia started to get few clients from US and Europe from April 2003 and in May 2003 he registered his business and thus "Great Media Technologies Private Limited" was 'born' on 19th May, 2003. Every year the company celebrates this day as its "Foundation Day".
Vivek Kedia got the first grmtechian in June 2003 who worked from his hostel. In April 2004 he got a 900 sq.ft. flat from his father to give Grmtech the much needed push, he got 3 more grmtechians working, the team started to develop website and do SEO for those sites.
By the end of September 2004, the team of 18 grmtechians started developing more financial websites for the US clients and a bigger office space was required.
In October 2004, Vivek Kedia shifted grmtech to a new office space of 2200 sq. ft. at BA - 46, Salt Lake. By that time, the company had already started developing even more financial websites and online communities. Later on in January 2007, he purchased a building of 5500 sq.ft. in AE Block, Sector 1 and shifted Grmtech there, in this present office 92 workstations are available in one shift and various facilities like in-house pantry, cafeteria, sports equipment, etc. are provided to all grmtechians.
By June 2008, Vivek Kedia was successful in raising the number of grmtechians to 100.
He started exploring other markets in US with aim to take Grmtech to new heights and increase the employment opportunity for more people. Then Grmtech started its LPO (Legal Process Outsourcing) operations for an American Law Firm in night shift with team size of 5 people. Currently, the LPO team has strength of 65 people and it provides service to more than 2000 clients per month for American law firms. Taking over end-to-end backoffice responsibilities of the law firms.
Today, the company has 175 grmtechians working under the guidance and leadership of Vivek Kedia. Grmtech's key role is to develop, maintain and market financial websites, thus working on content, SEO and technical aspects of those websites. Apart from enhancing the visitor experience of those websites, Vivek Kedia also plans to increase the LPO team. In next 2 years he looks forward to get business from more law firms in US and Europe and online marketing business from more clients in US /Europe.
Grmtech plans to have 500 grmtechians in the next 2 years time.
In June 2008, Grmtech was allotted a land of 15 Cottah at AA1, New Town, Rajarhat by the previous IT Minister, Mr. Manabendra Mukherjee of IT Department of the West Bengal Government. Construction work has already started. Vivek Kedia plans to get the construction completed by July 2012 and be able to provide infrastructure to more than 500 grmtechians to work from the building in the IT park, New Town.
Official Email: vivek@grmtech.com
Personal Email: vivekkedia@gmail.com